In 1945, God allowed special people to catch a vision. The First Baptist Church of Doylestown, Pennsylvania sponsored a missionary conference and commissioned its own Pastor, Rev. and Mrs. Edwin Spahr as missionaries to the Philippines. Rev. and Mrs. Spahr ministered to the US servicemen stationed in Manila and handled pastoral duties to the Filipino congregation of FIRST BAPTIST CHURCH OF MANILA.
On the Philippine side, the vision started in a small house in Tanduay St., Manila. A renowned Chinese Christian educator, Mrs. Julia L. Tan had the vision- …academic excellence coupled with sound spiritual training.
"Spartan family"
Dr. and Mrs. Spahr and Mrs. Tan
In God's providence, the two visions were brought together. The "Spartan family"- Dr. and Mrs. Spahr and Mrs. Tan—prayed fervently and discussed this proposal together. Thus, the two vision and burden combined in God's clear call to start a Christian missions school in the Philippines.
Then the miracle began to unfold. Businessman Don Alfonso Sycip and sons John and Paul Sycip generously allowed the school to build on their lots in Nagtahan St., San Miguel, Manila. The president of China Banking Corporation, Mr. George Dee Sekiat approved a P90,000 loan for the building construction without collateral because the signature of Mrs. Tan was enough.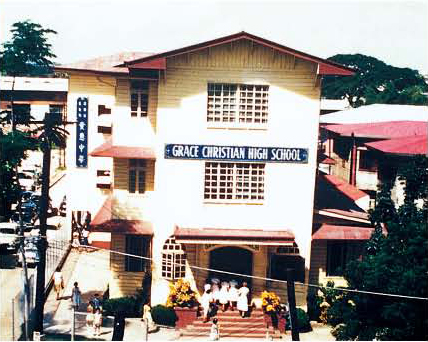 Construction of the building began on May 29, 1950. Within a matter of weeks a three-storey building was standing on the site. On July 5 of the same year, one hundred and eighty six students held their classes inside the brand new classrooms. In a miraculous way, 30 Christian teachers for both English and Chinese classes applied. God sent 12 American missionaries to work with the Filipino and Chinese Christians.
Seven years passed. Four extension buildings were added to the original. Enrollment reached the one thousand four hundred mark by 1961. Each year prospective students were being turned down for lack of space.
Then, Mrs. Julia Tan had a vision of: "a Christian school town filled wit Christian music coming from every household day and night, and above standard educational system, with a Church near the school, full of people richly blessed by God…the cultural base of the school town would be Christianity and education."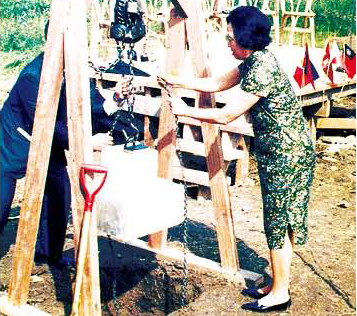 Finally, Mrs. Tan's search ended in a north Quezon City rice field. Mrs. Julia L. Tan negotiated for the purchase of the rice field from several owners. She then invited five Christian businessmen friends to form the March Development Corporation for the sale of residential lots to school parents and community friends. Samuel Dee was its president and the members were Meritto Lim, Wang Ta Peng, Johnny Liuson, and Paul Sycip.
Thus, GRACE VILLAGE, with the school as its educational center and first resident came to be. On August 2, 1996 the main door of the new school building was officially opened. Enrollment grew to 1,400. Hired faculty and staff increased from 30 to 300. and the modern 1,500-seat Grace Christian Church ministers to the school's students, parents, and friends in the Grace Village.
Three churched were started through the ministry of Grace Christian High School. The Grace Bible Church (in 1949) in the school's original site in Nagtahan St.,, Manila, the Grace Gospel Church (in 1952) also in Nagtahan ST., but later located at nearby Piña St., and the Grace Christian Church (in 1966) with its location inside Grace Village, continue to shine as beacon for Jesus Christ.
Founder Mrs. Tan's original and continuing vision was that the "The GCHS school's spiritual home (for students, parents, and alumni) should be the church, and the GCC church's missions field to be the school." The school desires the spreading of the Gospel to Grace Village residents, students, alumni, parents – in connection with the outreaches of Grace Christian Church
"Balik Scientist Awardee"
Dr. James L. Tan
In 1986, the school had a big boost in the coming of Dr. & Mrs. James L. Tan to reinforce the school administration. Dr. Tan, who is a Department of Science and Technology "Balik Scientist Awardee," possesses a Doctor of Science degree with a minor in Education from the George Washington University in Washington, D.C. He started what is now the GCHS Computer Center, the Kumon Math Center, the Discovery Learning Center, and the Multi-Media Resource Center, which provide Computer Studies and other Sciences and Math support programs for our students and also our faculty and most recently, the Robotics Program which is now one of the highlights of our school.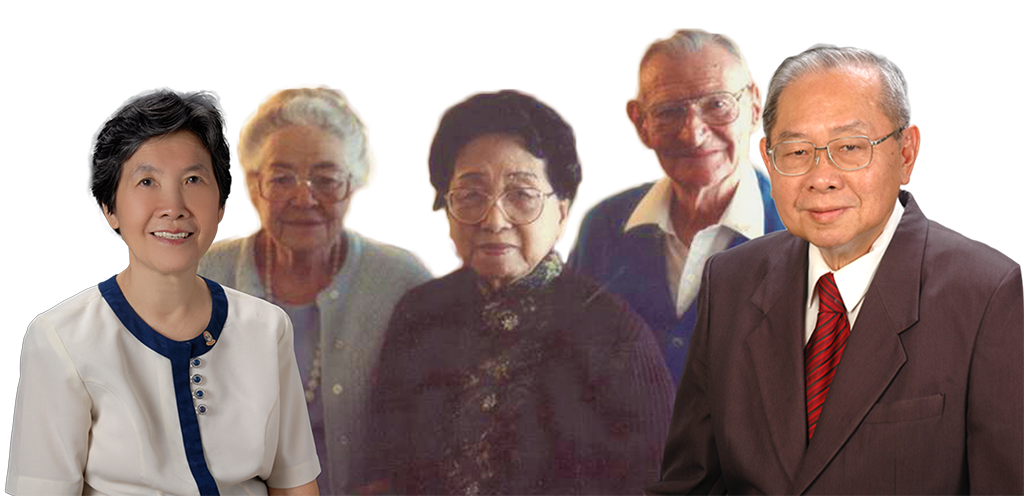 Each school year hundreds of students come to know Jesus Christ as their personal Savior. A good number of alumni have given their lives to full time Christian service, and many have returned to work at their Alma Mater and had become valuable assets to the teaching and non-teaching force.
Fifty-seven years have passed since the vision of Mrs. Julia L. Tan and her co-founders, Dr. and Mrs. Spahr came into fruition. The tree still continues to bear fruits. Grace Christian High School remains a shade of comfort and her fruits a source of blessings to many.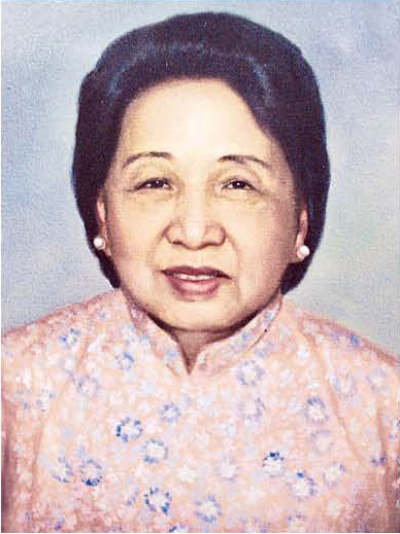 MRS.
JULIA L. TAN
FOUNDER
---
"The challenge of the cross and of faith ever inspire the children of God in attempting new tasks."
The love of Christ constrained us to begin a small Christian school at the sparsely populated Nagtahan Street. Under the banner of Christ and in His strength, no circumstances, nor hardship was enough to cause loss of faith and trust.
---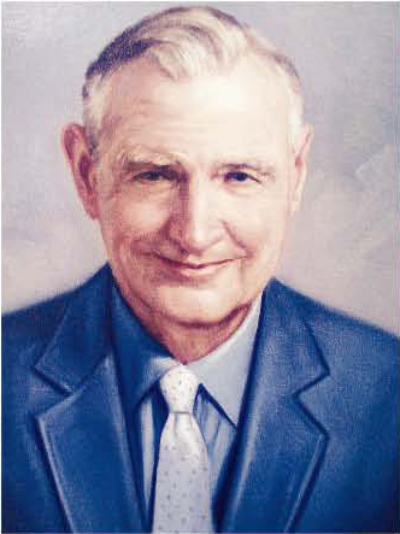 DR.
EDWIN G. SPAHR
FOUNDER
---
We remember that all we had with which to begin in 1950 was a verse of SCRIPTURE: "And this is the confidence that we have in Him, that if we ask anything according to His will, He heareth us. " (1 John 5:13)
There is only one explanation for Grace Christian High School. The Lord wanted this Christian school for many children, so He built it.
---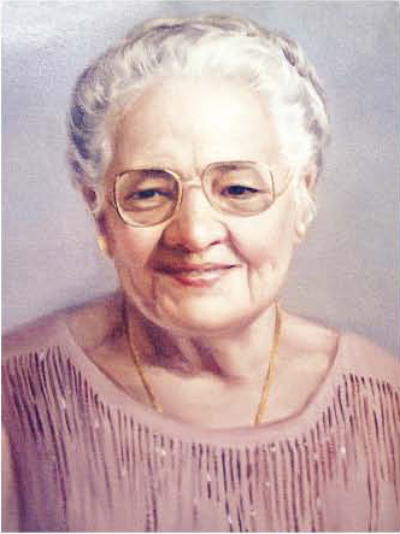 MRS.
HELEN W. SPAHR
FOUNDER
---
"He has supplied our needs in ways often beyond the realm of human planning and providing. At times, the miracles of his Grace were so overwhelming, it seemed that we must be the only ones for whom He was caring.
Even more amazing and precious that God's wondrous works has been His nearness to us. There has been not only his mighty power toward us but also His loving heart encompassing us.
The greatest miracle has been the daily manifest presence of the Lord Jesus Christ in the midst. Without this there would have been emptiness, an institution without true life."